---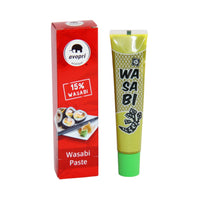 -96%
I'm saved because my sell-by date is almost reached. The retail trade only accepts products that are officially still good for a certain amount of time, and that's exactly where we step into the breach for you.
Note: This product may be approaching or has already expired. However, it was carefully sensory tested by us - the result: still very enjoyable. Nevertheless, we recommend storing the product only for a short time and enjoying it as soon as possible.
Ingredients: Horseradish, humectant: sorbitol, wasabi 15% (Wasabi Japonica), salt, SOY OIL, corn starch, MUSTARD powder, natural wasabi flavor, coloring: turmeric and chlorophyll.
VEGAN